Yesterday was a day anxiously awaited by many as both Canon and Red would be announcing new products.
Canon announced their first "Cinema EOS" camera, designed specifically for cinema and video applications, the C300.
The C300 has a Super35 sized sensor (with, according to Canon, no Moire artefacts and very "rolling shutter resistant"). It is available in in Canon EF mount or PL mount versions. For more technical information check out the C300 FAQ at the Canon website.
Vincent Laforet shot a short film called "Möbius" with a prototype of this camera and it looks great.
[vimeo]http://vimeo.com/31525127[/vimeo]
A high quality 1080p version is available here.
There is also an interesting behind the scenes video.
[vimeo]http://vimeo.com/31526888[/vimeo]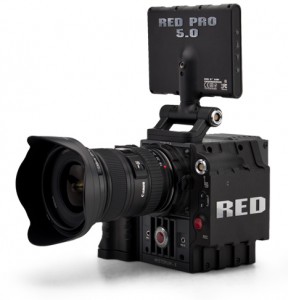 The Canon announcement was followed by Red's announcement a couple of hours later. They announced their long awaited Scarlet X camera.They dropped the fixed lens version and went for a "pro" version only. Which means (of course) that the price went up but it offers a lot for the money you have to pay for it. For more information check the Scarlet X product page.
So, who is the winner? Is there a winner?
Comparing specs it looks like Red has the upper hand here but does it really matter? Looking at Vincent Laforet's footage shot with the C300 I think it doesn't. That footage looks great and although I haven't seen any Scarlet X footage yet I'm sure it looks just as great and maybe better. For certain applications where you need the higher resolution, the Scarlet X would be the camera of choice, for others the C300 would be preferred. There is no such thing as a perfect camera.
On the other hand, it's not the camera alone who is responsible for creating nice images…
The bottom line is that both companies have pushed the boundaries of what is possible with a camera. Higher resolution, larger sensors, better low light performance, significantly less or no image artifacts (moire, rolling shutter), smaller form factor, less weight and all that for the same price as current cameras that do not offer all of those features.
The big winner here is the filmmaker. He can add two more excellent tools to his palette to create even more stunning visuals.