Info
Synopsis
A man finds out that what he believes is true but this knowledge comes at a price...
He wakes up in a strange room and calls his (ex) girl friend. However, the connection is interrupted before he can explain what is going on...
Production Notes
After writing the script, writer/director Andre Theelen set out to prepare shooting his first narrative short film, a science-fiction story in the style of the Twilight Zone.
After searching in vain for the indoor location the script called for, he finally decided to use the basement in his sister's house where he could shoot undisturbed. "The large basement room in my sister's house was the ideal location", says Theelen, "but it did not fit the description I had in mind. So I decided to build 2 set pieces that would be the walls of the room and could me moved around as needed. I built them from dry wall plates which, in hind sight, was not a very good idea as the resulting set pieces were very heavy and needed two people to move around. But once painted with metal paint, they looked great and really added a lot to the production value of the film."
Shooting the film went very smoothly because everything was planned with shot list, storyboard and lighting diagrams. The resulting film comes very close to what was written in the original screenplay. Just a few scenes were left out or shot in a slightly different way than originally intended.
Andre Theelen: "The one thing I learned from the first day of shooting is to plan enough time for setting up lights between shots. This was the main reason the first day of shooting went way past the original planned wrap time. Taking this into account in the planning of the second day resulted in a much more realistic time schedule and we wrapped just a little bit later than planned."
Post production took quite some time as Theelen did all the work himself. He edited the movie, created the visual effects, did the sound design and audio mix and colour graded the film. "It was a lot of work, but I wanted to do all this myself from the start. I wanted to go through the whole process of making a film from beginning to end to be able to learn from it and use that experience in future projects."
Subtitles in several languages (Dutch, English, French, German, Spanish, Portuguese, Italian and Chinese) were created to make to film available to as large an audience as possible.
For the soundtrack of the film two tracks from Moby were licensed via his website mobygratis.com.
Director's Statement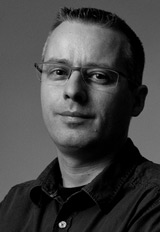 The idea for this film was born from two scene outlines I had written down in the little notebook I keep to scribble down ideas and stuff I find interesting. It was the opening scene of the film and the start of the telephone discussion between Tom and Susan. While writing these two scenes together the story evolved to what it is now. To keep things simple production wise, I wrote the script to take place inside one room with a minimum of visual effects.
This being my first narrative short film I tried to be as prepared as I possible could before stepping on the set. I created a shot list, storyboard and lighting diagrams for every scene. This proved to be of invaluable help during the shoot.
The film was shot in two days with the help of friends. We shot all necessary scenes on the first day but I already knew certain key scenes didn't work out the way I had planned. Mainly pacing and blocking issues. This was confirmed when I made a first rough cut of the film. So I decided to re-shoot a couple of scenes.
While thinking about these scenes I simplified the way to shoot them. The first day we had used a green screen for some scenes and rethinking that approach I concluded it wasn't really necessary and would only complicate matters on set and during post production. So I came up with a new way to shoot the scenes which worked out just fine.
I did all post production myself which was quite a bit of work but I really enjoyed doing it and I learned a lot from it. I'm really happy with the way the visual effect shots worked out.
We all had a lot of fun working on this film and I loved watching the story I had written down come to life in moving images.
Andre Theelen
Writer/director "I Want To Believe"
andre [at] ecalpemos [dot] nl |
www.ecalpemos.nl
|
Twitter