My first exposure to electronic music was in my first year in high school when my music teacher played "Spiral" by Vangelis. I had never heard anything like it and it opened a whole new musical world for me.
Later I bought my first synthesizer (a Yamaha TX7 module) and started making music myself.
Then, sometime around 1991 I met Harold Teunissen and we started to make music together under the name of "Syndrone". We released 1 audio cassette en 2 compact discs. We decided to end Syndrone in 1997 because Harold had moved to the other side of the country and making music together became harder and harder.
Then a lot of stuff happened and making music disappeared from my life: a busy job, I got married and my daughter was born.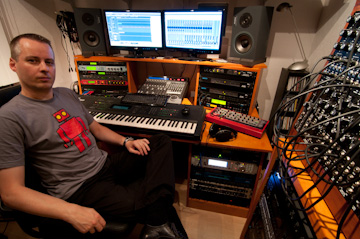 Fast forward 11 years. Time to get serious with music again. I dusted off my old gear and starting looking on eBay for those classic synthesizers I back then couldn't afford but now can be bought for a fraction of the new price.
I started building my studio again and began working on new tracks.
In these section you can read more about that.