Together with Harold Teunissen I used to make electronic music under the name of Syndrone.
Our music is rather relaxing and sometimes a little experimental. The main instruments used are synthesizers but there are also sound recordings and "real" instruments used in our music to add just that extra atmosphere.
Our main influences were musicians like Steve Roach, Michael Stearns, Brian Eno and lots of other music (from Gustav Mahler to the Prodigy). We think that, as a musician, you should be open to all kinds of music and influences, otherwise you will never progress in your music.
Harold and I met in 1991 and soon after that started making music together. We bought some more equipment and the quality of our compositions improved.
After a while we got positive responses to our music and we decided it was time to release our first product: an audio cassette called "Outer Reaches". We did everything ourselves: mixing, recording, even the copying of the tapes…
"Outer Reaches" contains 8 original compositions with a total playing time of 59 minutes.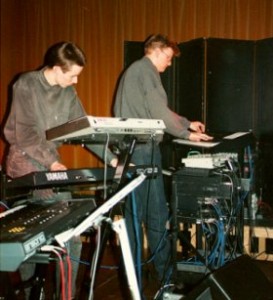 We sent the tape to a record label and we were invited to play some live concerts. This went very well and we got an offer to record our music on compact disc. That resulted in the release of our first compact disc "Being There". "Being There" has a total playing time of 67 minutes and contains 7 compositions. It was released in October 1993 by CUE Records NL, a Dutch record label specialized in electronic music. As of September 3, 1997 they changed their name to GROOVE Unlimited. Check out their home page and download a sound clip of our CD!
"Being There" contains 5 new compositions and two tracks previously released on cassette. Tracks of the compact disc were played on air by the German radio show "Schwingungen", devoted to electronic music. We were voted number 9 on the Top 20 Best Newcomers in 1993 by the listeners of the show.
"Blind Date", our second and last album, was released on September 1st, 1996 by CUE Records NL. This album has a total playing time of almost 73 minutes and contains 10 brand new tracks.
Both albums and a remastered version of Outer Reaches are now available as digital downloads on Bandcamp: syndrone1993.bandcamp.com.
Syndrone discography
You can read some reviews of our music on the reviews page.
Syndrone live performances
| | | |
| --- | --- | --- |
| May 22, 1992 | Living room concert | Harold's home. Born, the Netherlands |
| February 13, 1993 | Sound of Future | Zaal Unitas. Eindhoven, the Netherlands |
| November 20, 1993 | KLEMdag 1993 | De Vereniging. Nijmegen, the Netherlands |
| September 11, 1994 | the Jam Session | Zaal Unitas. Eindhoven, the Netherlands |
| November 27, 1994 | Con-Yak SF Convention | AlteA Hotel. Amsterdam, the Netherlands |
| January, 1995 | New Year Concert | Zaal Unitas. Eindhoven, the Netherlands |