This is the first module towards a Buchla 200 clone: The Buchla 291 dual voltage controlled filter. Using Mark Verbos' PCB design (scroll down to "Buchla Bandpass Filter") I made some minor adjustments and etched the PCB.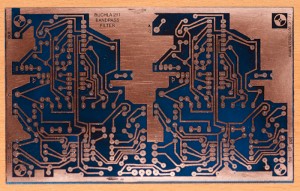 After soldering the PCB I started designing the front panel in Front Panel Designer using a picture of the original front panel for reference.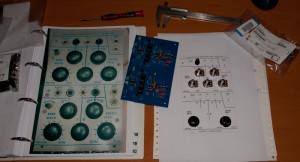 I'm using 16mm Alpha pots for the front panel, banana jacks and 3.5 mm jacks. I had the basic layout pretty fast but tweaking until everything was right took a bit longer. To be absolutely sure everything would fit I decided to make a prototype front panel using scrap wood so I could see if everything would fit like I thought it would. I printed the design and drilled the wooden panel.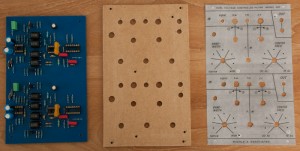 Then I mounted the front panel components. The 3.5 mm audio jacks didn't fit as the wood I used had a thickness of 5 mm and the jacks can only be mounted on panel with a maximum thickness of 2 mm.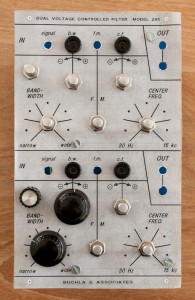 And everything fits! Time to order a professionally silk screened front panel.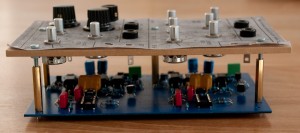 To be continued…