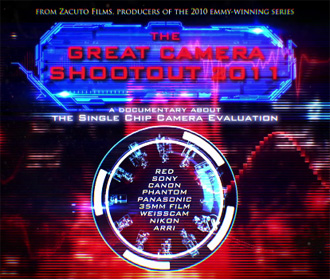 Just like last year, Zakuto produced a camera shootout with the currently available digital cinema camera's.
The following camera's (and 35mm film) where tested in a wide range of situations: 35mm Kodak 5213 Film, 35mm Kodak 5219 Film, Arri Alexa, RED ONE M-X, Weisscam HS-2, Phantom Flex, Sony F-35, Sony F3, Panasonic AG-AF100, Canon 7D, Canon 5D Mark II, Canon 1D Mark IV and Nikon D7000.
Episode One is available now. It focuses on dynamic range and handling of under exposure and over exposure. I think this series is a very "scientific" approach to comparing these camera's and really shows, in an as objective manner as possible, what these camera's can and can't do.
I don't think there will be a clear winner, but that doesn't matter. The point of this series is to show the strengths and weaknesses of the tested camera's so you know what to watch out for when using them in a production. All these camera's can, in the right hands, provide beautiful images!