I have been looking for a decent tripod for photography use which doesn't cost a fortune. I have been using an old aluminium tripod. It's an old one but it gets the job done. However, it's rather heavy and big so it's not something I want to carry along when hiking for example.
Recently I came across this new brand (for me anyway): Sirui. They're based in China and make tripods and ball heads for photography use. I was rather suspicious at first as I have rather mixed experiences with gear made in China. But their products were not the same cheesy, cheap looking stuff as a lot of the other offerings so I read some reviews and they were all very positive about the brand and the quality of their products. Apparently Sirui is one of the higher end photography brands in China.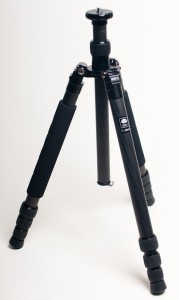 I ordered the T-1204X carbon tripod and the G-20 Ball Head. The tripod has a maximum weight allowance of 10kg, weighs 913 grams (800 grams according to the manufacturer's specs) and folds down to 40cm. The legs have 4 sections with non-slip rubber feet which do not scratch the surface it stands on. All sections have rubberised knobs for adjusting the section lengths.
The centre column can be used pointing up or down and an additional small centre column is included with the tripod to extend the centre column when needed. At the bottom of the centre column there is a small hook which allows something of weight to be attached for extra stability. On top is a 3/8″ thread which can be changed for a 1/4″ thread so you can mount your camera directly to the tripod, without using a ball head.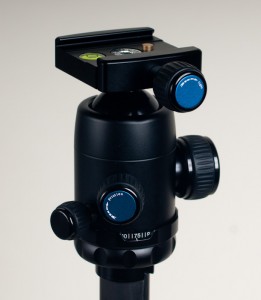 The G-20 ball head weighs 345 grams and has a maximum load capacity of 20kg. There also is a G-10 ball head which has a maximum weight allowance of 18kg. The price difference is just 5 Euros so I ordered the G-20 to be on the safe side as it has a larger ball and can handle a bit more weight. The ball head handles my Nikon D300s with heavy AIS lens without a problem. It doesn't move when locked.
It comes with a quick release plate and has a built-in bubble level. There are three independent control knobs on the ball head: ball friction, ball lock and panning base lock. The quick release head has a security pin preventing your camera to accidental fall out of the head when not locked. At the bottom of the ball head is a 360 degree scale which allows for easy panorama shooting.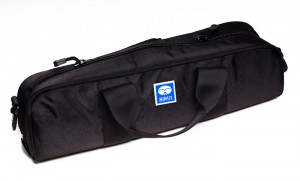 The tripod comes in a decent quality bag with big sturdy zippers. On the outside as well as the inside of the bag is a small zipper pocket for storing the Allen keys or other small items. The included shoulder strap for the tripod can also be stored in the bad together with the tripod. There is just enough room in the bag to fit in the G-20 ball head together with the tripod.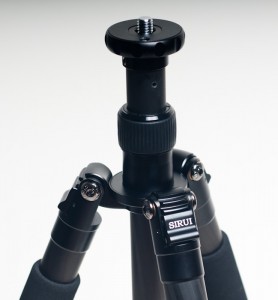 All in all I'm really impressed with this product. The built quality is excellent and the tripod and ball head are very sturdy. The weight of the overall configuration is very light (1.1kg) so ideal to take with you on a hike or long walk. Both the tripod and ball head have a short English manual included and some Allen keys for adjusting the articulated legs. Last but not least: Sirui offers a six year guarantee period.
Conclusion: if you're looking for a good lightweight travel tripod with a reasonable price, put this one on your short list.