Being interested in visual effects I wanted to try out some rotoscoping.
Rotoscoping is painting masks to block out parts of a film frame to be able to replace it with something else.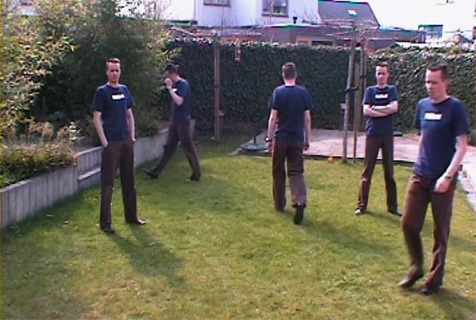 The idea was to make a short film where several of my clones and myself walk through the frame. On a sunny afternoon I installed my DV camera in the backyard and walked in front of the camera several times from different directions. That was the easy part…
After importing the footage in After Effects I selected the 5 best takes and starting working on the first layer.
It took me about 2 weeks (mainly working on it in the evenings) to finish this movie. Rotoscoping is a lot of work. Although the result looks pretty good and I'm really satisfied with it, it is really tedious work. Especially when the clones overlap each other I had to adjust the mask frame by frame which took forever to do.
Conclusion: sometimes you just have to use rotoscoping to get a desired result but if you can avoid it, do it! It will save you a lot of time and your sanity 😉