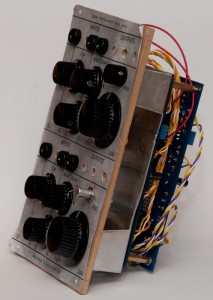 The last couple of days I have been fighting with a DIY variant of the Buchla Dual Oscillator Model 258. I couldn't get one of the two PCBs to output the right waveforms.
Tonight I wired the second PCB and was finally able to fix the first PCB. I will not bore you with the details but it suffices to say that I overlooked the obvious (again)… 😉
The picture on the left shows the two PCBs, containing a sawtooth oscillator and a square wave oscillator, mounted to a wooden prototype panel.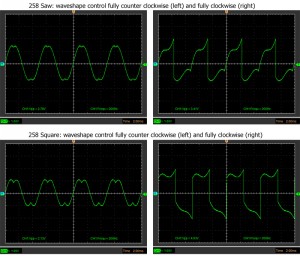 The waveforms aren't exactly perfect but the original Buchla oscillator also didn't output a perfect square or saw waveform.  However, I will try to optimise it a bit more.
The beauty of this oscillator is that it has a wave shape function on board. You can change the output waveform from sine to square or saw by just turning a knob on the front panel. As with every function on this VCO this is also voltage controllable. Very nice!
I did a quick sound test and it sounds… different. And that was the whole point of building this VCO.