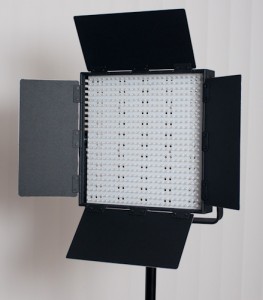 Some time ago I bought a "cheap" LED light from eBay. It was called "Pro 600 HP LED Video Light" containing 600 5400K LEDs with a power consumption of 36W. The light comes with a dimmer and 3 acrylic filters: Minus green, CTO and diffusion.
Until now, I have used this light indoors with artificial lighting for product shots and such and the results where fine. This weekend however, I did a test shoot with the new Panasonic AF100 camera in the workshop of my dad in natural light. I used the only window as key light and the LED light as fill light where needed. I forgot to bring the filters with me so I used the LED light without any filters.
Back home skipping through the footage the skin colors on a couple of shots looked like something from a zombie movie. As I had shot enough footage this wasn't a big problem but I wanted to test this at home to see how this LED light performed in combination with daylight on a human subject.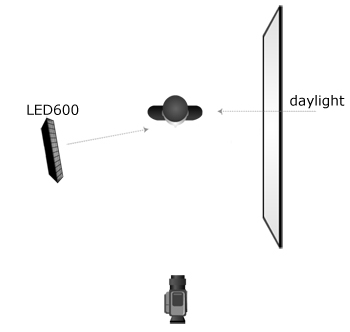 I used the following test setup.
On my left is a big window (distance about 1 meter) and I placed the LED light about 1 meter to my right and a little bit in front of me.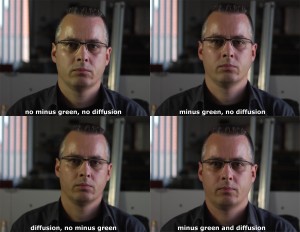 To the right you can see the frame grabs using the LED light with and without the minus green filter and with and without the white frost diffusion gel. Click on the picture to see a larger version of it.
The frame grabs are straight from the camera without any color grading.
As you can see without the minus green filter there is a nasty green shine to the right side of my face (left side in the image) which is illuminated by the LED light. The white balance is a bit off and the lighting isn't perfect as I did the test on my own. The side of my face illuminated by daylight is a bit hot but I think it is clear how ugly a LED light can look on skin without a minus green filter!
Unless you're using very good (expensive) LED lighting I think it is essential to use a minus green gel on these kind of lights. Do some tests before using these lights for a real shoot.
Below pictures of the LED light with minus green filter and with white frost diffusion gel.