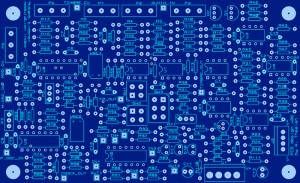 I've been working a while on the timbre section of the Buchla 259 and this week I spent a couple of evenings finishing the PCB design. This is how it looks now.
The PCB is the same size as the 258J oscillator and the power connectors are on the same location which makes for easy power wiring when stacking the PCBs.
The board contains the 259 timbre section and two 292C VCAs that function as  modulation index section. An additional TL074 configured as 4 non-inverting opamps were also added.
Together with two 258J oscillators I'm planning on building a "mutant complex waveform generator" with it, inspired by the Buchla 259 complex waveform generator. The block diagram is shown below.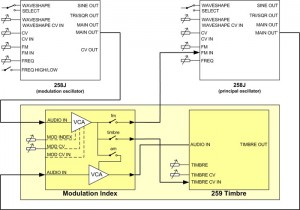 The signal from the modulation oscillator is fed into the modulation index where you can select the modulation destinations. Timbre can be modulated and the principal oscillator can be FM or AM modulated.
This should provide some very interesting and varied sonic possibilities.