More than a year ago I bought one of those "like ARRI" 650W Fresnel spots on eBay. I was just starting buying some filmmaking gear and it was the first "decent" light I bought. I want to share  my experience with it so far. I did not use this light very much, mostly for indoor test shoots for trying things out.
After I received it and while I was setting it up for the first time, the bottom accessory bracket broke off when I tried to bent it a bit so the barndoors would fit a bit better. I made a replacement bracket from Aluminum, not bothering the hassle sending stuff back and forth to China. The metal enclosure itself is pretty decent. I never worked with a real ARRI so I cannot comment on any differences but when I look at pictures of the real thing this clone is pretty close.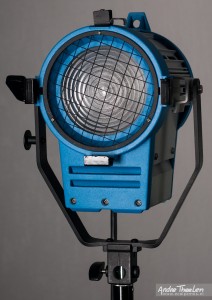 After switching on the spot for the first time a burning smell filled the room. This is normal as the paint on the wire guard in front of the lens burned in from the heat of the light. However, it was a pretty nasty smell and I opened a window to make sure I got rid of the fumes and smell as soon as possible.
During use this Fresnel handled just fine. Focusing works without problems so far and mounting this light on a light stand or C stand is also no problem. The last time I used it was a couple of months ago and during that shoot the Fresnel lens cracked in two within a few minutes after switching the unit on. I switched off the light and haven't used it since. I did some searching on the internet and found out I wasn't the only one with the cracked lens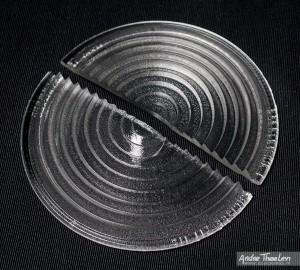 problem…
Last week I was checking out  the ARRI website and came across the spare parts list for their Fresnel spots. Seeing the Fresnel lens available as spare part it immediately made me think about the cracked lens of my ARRI clone. I decided to order the spare part to replace my cracked lens. I also ordered a scrim set.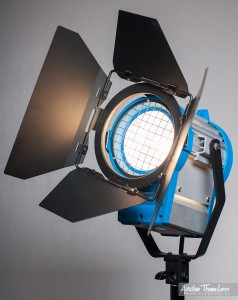 Today, I received the replacement lens. It fitted perfectly! The scrims however did not fit as the accessory brackets are too close together to allow the scrim to fit between them. I have to bent the brackets a bit more to make them fit.
Would I buy another ARRI clone? No. Maybe I had bad luck with my unit, maybe not. Point is that I do not want this to happen to gear I buy. That's why I will buy a real ARRI light next time I need one.