Grain of Wood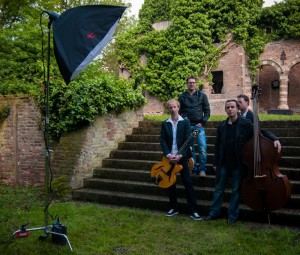 Last week I did a photo shoot with the Dutch band Grain of Wood for their upcoming album "Welcome Home". Their music is a mix of latin, jazz rock and fusion.
The band consists of founder and main composer Eric van de Kerkhof  on guitar, Marco Dekkers on guitar,  Martin Senders on bass and Janco van der Kaaden on percussion.
Preparing the photo shoot
We had arranged for a great outdoor location to shoot in, an old castle ruin. Two weeks before the shoot I visited the location to check it out and to look for cool spots we could use during the shoot. By using the excellent SunSeeker app on my iPhone I was able to determine when and where the sun would be on the day of the shoot so I could search for spots with sufficient shade.
I also studied the work of other photographers like Jeremy Cowart and Zack Arias, to see how they lit their subjects and for inspiration how to position the band and angles to use.
The day of the shoot
Although the weather forecast had been rather depressing (we even discussed postponing the shoot) on the morning of the shoot we had excellent weather. Just a little wind, a bit of sun and not too cold. Perfect!
I used a 600W portable flash head with a 100×100 cm soft box as the main light and used a small hot shoe flash as fill for a couple of shots. I had asked the band members to bring their instruments which really added character to the images. We had about 3 hours for the shoot and all went very well. Below you can see a couple of photographs from the foto shoot.