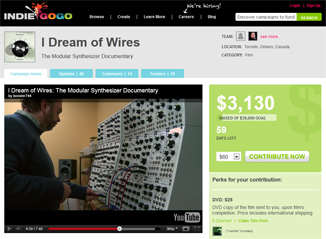 "I Dream of Wires: The Modular Synthesizer documentary", previously known as "Modular: The Documentary", is a new film project looking for crowd funding on IndieGoGo.
It's a documentary about modular synthesizers and why people like to built them and use them for making music.
I watched the trailer and really liked it. It's not just images of dark rooms full of equipment but it explores what it is that attracts people to these modular synthesizers and does that by talking to designers and users of modular synthesizers.
The director, Robert Fantinatto, aims to raise $30.000 to be able to finish his documentary and be able to travel to Europe to interview makers and users of modular system over there.
I hope he can raise enough money to be able to create the film he envisioned.