My first short film, "I Want To Believe", ended at #38 (out of 566 entries) in the Viewster Online Film Fest. I am very pleased with that result.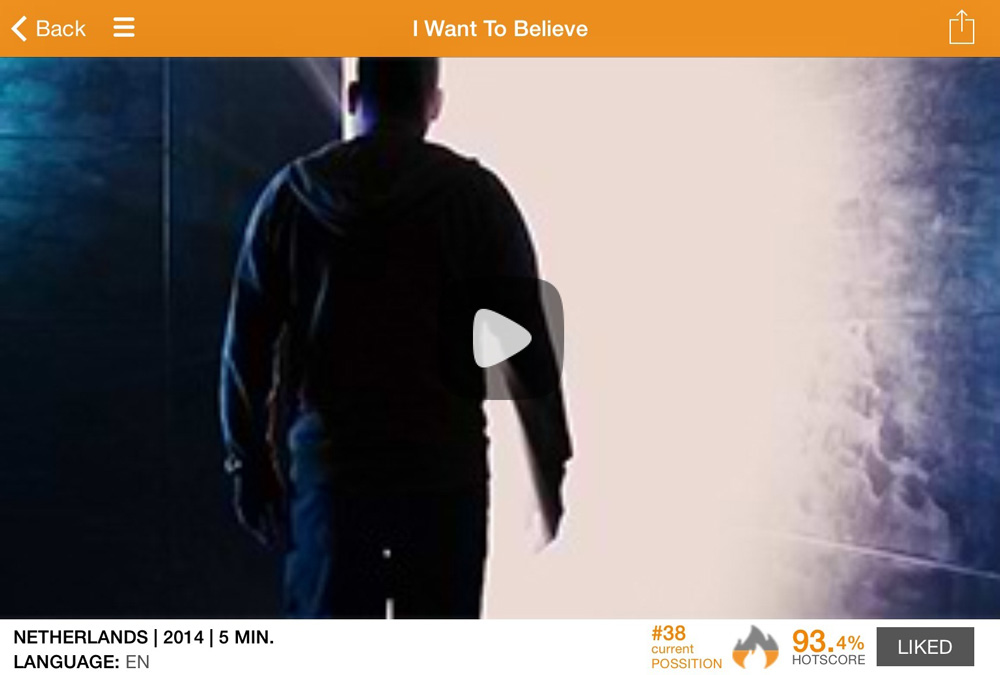 The I Want To Believe campaign on Viewster
The final ranking of the film was based on audience interaction: views, likes and comments on the Viewster page of the film and interaction on social media (shares, retweets, likes on Facebook or Google+) . Details about the algorithm used to determine the ranking of the films was not disclosed. So I asked everyone who helped making the film to share the link with their friends, retweet my tweets and share the info on Facebook. Considering the fairly small circle of people who initially spread the word I was surprised that, after a dramatic drop in ranking a couple of days ago, the film somehow regained momentum and ended up in the top 40. Viewster did not offer any detailed statistics about how my film was doing, for example how many likes the film received on a given day, so I have no clue what caused the sudden fall and rise in the ranking.
The Viewster Film Fest is different from other festival in that you, as a filmmaker, can influence the public voting/ranking. I saw some people almost constantly twitter the link to their film, often targeting specific twitter accounts. As I hate getting spam I do not want to send out hundreds of tweets per day "promoting" my film. I kept it to about 3 tweets per day and tried to use different content for all of them.
Most of the time I included a picture in the tweet. The film poster, a behind the scenes picture or a production still from the film itself. I did send out two specifically targeted tweets. One to Shotlister app and one to Cinevate, two companies who I know well and who's products I use a lot. This resulted in retweets and a share on Facebook. I think this resulted in a lot more people reading about my film than I could have reached just by myself.
All in all a very interesting experience!