The project
Last weekend I shot the last short film for a project that started in November of last year. A brass band will be performing brass arrangements of famous film soundtracks in a theatre. While the music is performed a short film of that film will be projected. Every short film is based on the corresponding film but has a comedic twist to it. The members of the brass band are the actors and contributed ideas for the scripts. I took these ideas and worked them into a short shooting scripts and shot lists.
The shoot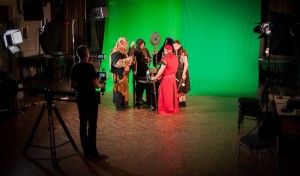 The film we shot last weekend was the fantasy story "Pilatus – Mountain of Dragons" and was an all green screen shoot. One of the members had arranged some LARP costumes and props which looked really great. They also had arranged a large hall for us to shoot in. We used this hall on a previous shoot and it is perfect for green screen work as it has a very high ceiling and lots of space to set up the green screen.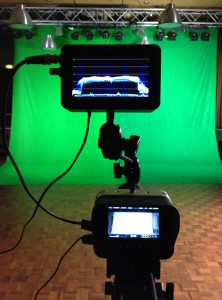 On previous shoots I had used a single 3 x 6 m green screen cloth which worked pretty well but if there are more than a couple of people in front of the camera we were running out of green screen surface pretty quick which resulted in quite some extra time in post production. For this shoot however I brought a second green screen cloth so we had 6 x 6 m to work with which was sufficient for what we needed to do. More would have been better but this worked out just fine. I took very good care to instruct and place the actors where I wanted them and told them how far they were allowed to move to make sure they stayed within the green screen surface area.
After setting up the green screen I first lit the green screen with two soft boxes with grids and  a LED fixtures to fill in a darker spot in the middle. I used the waveform display of the Atomos Samurai Blade I used as a monitor to dial in the green screen lighting. I find the waveform display essential for making sure that the green screen is as evenly lit as possible. You cannot trust your eyes for this!
I prepared a shot list and a collection of images that would be used for the backgrounds of the shots. I had them on my iPad so I could reference them and adjust the lighting of the actors accordingly to make compositing later on as smooth as possible.
Post production
I shot the film with the Blackmagic Cinema Camera in 2.5K raw and used Davinci Resolve to colour grade the footage. Visual effects will be done with Blackmagic Fusion. I already used Fusion on two other short films and really enjoy working with this application. If you're interested in visual effects check out Fusion as it is free to use! Personally I prefer the node based approach of Fusion over the layer based workflow of for example Adobe After Effects. But I will still use both depending on what needs to be done. For example, I have the excellent Videocopilot Element 3D plugin for After Effects which makes compositing of 3D objects a breeze. It's all a matter of choosing the right tool for the job at hand. Being able to use more tools just makes you more flexible.
Timelapse
Before we started shooting I set up my Nikon D300s to shoot an image every 30 seconds. I used the image sequences of the two days to create to following timelapse video of this weekend's shoot.
[vimeo width="640″ height="470″]http://vimeo.com/138561213[/vimeo]
Realted posts: