I finished editing the video of the LEGO Turing Machine. You can watch it below.
There is also a YouTube version of the video if you prefer to watch it there.
Although there are a couple of things that I could have done better or different, I am really pleased with the end result. I succeeded in realizing the look I had in mind for this project.
More information on the LEGO Turing Machine van be found on legoturingmachine.org. You can find more information about the exposition "Turings Erfenis" on the website of CWI.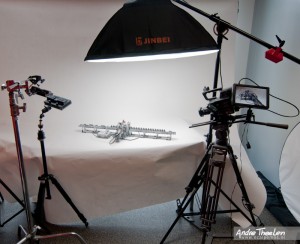 Shooting took a whole day. Lighting the different setups took a lot more time than I expected. The main light source was a 4 x 85W florescent light with 70x100cm soft box which I placed about 1 meter above the subject. This provided sufficient light to blow out most of the white background while creating nice even lighting and soft shadows on the Turing Machine at the same time.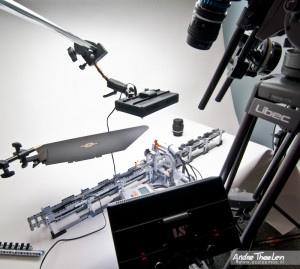 I also used two LED312-AS2 LED lights for providing additional fill lights when needed. Sometime I also used the French flag of my matte box as a flag to prevent unwanted light to fall on certain areas of the scene. As you can see on the picture it sometimes took quite some fiddling around to get the lighting just right. I used the zebra function and waveform monitor on the Panasonic AF100 all the time. These are really essential tools in situations like this!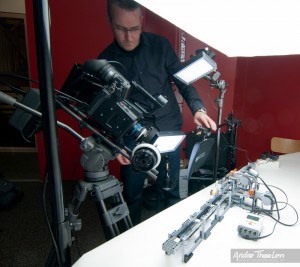 For this shoot, I used the Panasonic AF101 video camera with a Voigtlander 25mm f0.95 prime and several manual focus Nikon Ais prime lenses (35m f2, 50mm f1.4, 55mm f2.8 macro, 85mm f1.4 and 105mm f2.5) . To be able to mount the Nikon lenses on the camera I use the excellent Novoflex Nikon to MicroFourThirds lens adapter. As the AF101 has a crop factor of 2 due to it's Micro Four Thirds sensor, the 105mm was used on only one shot as the room I was shooting in was not very large and I could not get far enough from the subject to get the framing I wanted.
The dolly shots were all done with Cinevate's Atlas 10 slider.
You can read a bit more on the shoot in a previous post I did.